Valentina M. Medvedeva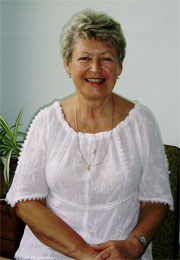 Valentina M. Medvedeva
Ph.D., associate professor.
In 1961 she graduated from Kyiv Polytechnic Institute Math and Accounting-decisive tools and equipment and the qualification of a electrical engineer. In 1971 defended her thesis in 252 - Computer Science on "hardware control based on syntactic metalanguage R-grammars".
Teaches: basis for development of translators; linguistic CAD software.
Publications:
Isayenko SA, Scherbashyn YD Optimization calculation of hydraulic networks with vysyaschymy uzlamy East Evropeyskyy magazine peredovыh technology. - 2010. - №2. - P. 20-27.
Yzotov AE Monitoring and optimization korrektnosty systemnыh resources semeystva Windows OS East Evropeyskyy magazine peredovыh tehnolohyy.- 2011.- № 2/2 (50) - p. 52-55.
Tretiak VA Compilers: lexical and syntactic analyzers. Textbook labeled NTU "KPI", however. №9 of 24 May 2012.- 148 p.
Chupryna AI Using OLAP technology in automation risk insurance company. Proceedings of the IX International Scientific Conference of graduate students, undergraduates and students "Modern problems of scientific support energy ', m. Kyiv, 18-22 April 2011 - NTU KPI VPI MIC" Polytechnic ", 2011. - P. 432.